You are here
Local small business owners complete Executive Level education series
Contact:
Nina Ramon | nina.ramon@sba.gov
SAN ANTONIO – For the past seven months, several local small business owners have met regularly to meet with mentors, connect with their peers, city leaders and the financial community and develop their growth strategic plan. The end result is to emerge as a self-sustaining business that creates jobs and build communities.
 "The businesses in our Emerging Leaders classes represent some of the finest small businesses in our district," said Anthony Ruiz, SBA San Antonio District Director. "I applaud each of these owners for their commitment and desire to advance their business."
The SBA initiative program focuses on small, poised-for-growth companies with potential for job creation; serving as a catalyst for expanding opportunities in underserved communities. Reports have shown nearly 70 percent of graduates have achieved revenue growth and over 80 percent created new jobs or retained all existing jobs.
The course includes approximately 100 hours of classroom time per participant and provides opportunities to work with experienced mentors, attend specialized workshops and develop connections with their peers, city leaders, and the financial community.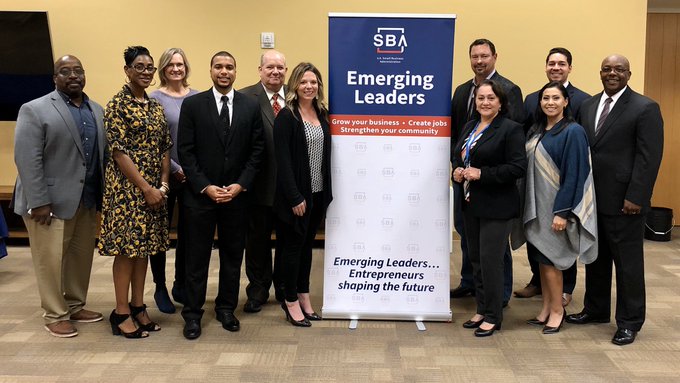 L-R: Halbert Brown, Interise Instructor; Margie Johnson (Johnson Venture Management Solutions, Inc), Pamela Crowder( Defense Consulting Services, LLC), Andrew Everett (Everetech LLC, Rondale Witcher (Arctic Ape, Inc), Amy Burkett (Burkett Arbor Care), Belinda Hernandez (B&E Medical Supply and Equipment), Dave Henderson (Osi Vision LLC), Carol Loveless (CLL Specialists, Corp), Krystal Nerio (Prosperitus Solutions), Jorge Sanchez(SAT Energy), Anthony Ruiz (SADO District Director), Don Owens (Emerging Leaders Program
This year's district Emerging Leaders graduates are:
Rondale Witcher - Arctic Ape, Inc.
Jorge Sanchez - SAT Energy
Carol Loveless - CLL Specialists, Corp.
Andrew Everett - Everetech LLC
Pamela Crowder - Defense Consulting Services, LLC
Belinda Hernandez - B&E Medical Supply and Equipment
Krystal Nerio - Prosperitus Solutions
Dave Henderson - Osi Vision LLC
Margie Johnson - Johnson Venture Management Solutions, Inc.
Amy Burkett - Burkett Arbor Care
Recruitment for the Emerging Leaders Initiative occurs on an annual basis, with classes typically beginning in April. To learn more about the Emerging Leaders Initiative visit:  http://www.sba.gov/about-sba/sba_initiatives/sba_emerging_leaders_initiative. Business executives interested in participating should complete the online registration form.  For registration follow up questions, contact the district office at 210-403-5900.
###
The SBA San Antonio District Office located in the heart of San Antonio in the Hipolito F. Garcia Federal Building, across the street from the Alamo, with a service area that spans across 55 counties within Texas. The counties served are: Atascosa, Bandera, Bastrop, Bee, Bexar, Blanco, Burnet, Caldwell, Calhoun, Comal, Concho, Crockett, De Witt, Dimmit, Edwards, Fayette, Frio, Gillespie, Goliad, Gonzales, Guadalupe, Hays, Irion, Jackson, Karnes, Kendall, Kerr, Kimble, Kinney, La Salle, Lampasas, Lavaca, Lee, Live Oak, Llano, Mason, Maverick, McCulloch, McMullen, Medina, Menard, Real, Refugio, San Saba, Schleicher, Sutton, Tom Green, Travis, Uvalde, Val Verde, Victoria, Web, Williamson, Wilson, and Zavala.
About the U.S. Small Business Administration
The U.S. Small Business Administration makes the American dream of business ownership a reality. As the only go-to resource and voice for small businesses backed by the strength of the federal government, the SBA empowers entrepreneurs and small business owners with the resources and support they need to start, grow or expand their businesses, or recover from a declared disaster. It delivers services through an extensive network of SBA field offices and partnerships with public and private organizations. To learn more, visit www.sba.gov.