You are here
How Going Global Paid Off for Ellensburg Hay Business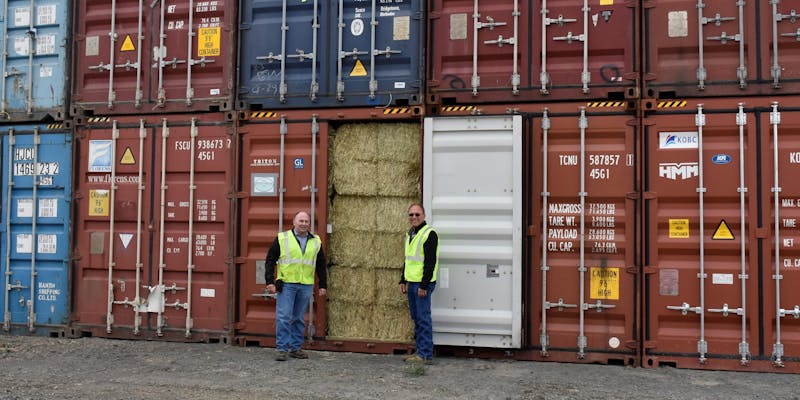 How Going Global Paid Off for Ellensburg Hay Business
In December of 1997 the Haberman family farm produced their first pressed bale of hay in Ellensburg, Washington. The original reason the Haberman's got into pressing hay was to supplement their family farm income, which consisted of raising timothy hay, seed oats and a custom feed lot at that time—with another income-generating activity. Co-owners and brothers Bob and Brad Haberman steadily grew the hay and foraged-products pressing side of their business over the next few years and made their first international sale of pressed hay bales to Japan in 2000. By 2003 the Haberman family farm needed to create a new company known as the Number 9 Hay Trading Company because of the expanding international orders for their products but had an issue with cash flow management. Traditional business lenders weren't willing to work with them since they had self-financed their entire operation until this point and didn't have a financial history with a bank.
Solution
In 2003 the Haberman's met a lender who recommended an SBA rotating line of credit to solve their cash flow management and help them meet the international demand for their hay products. In 2005 they worked with the same lender who introduced them to the SBA Export Express Loan, followed by an export working capital loan two years later. Since those loans, they have been approved an additional two SBA international trade loans.
Impact
Each SBA loan and line of credit has helped Bob and Brad Haberman grow the business in a unique way. After solving the cash flow management issue with lines of credit, they were able to take more international orders without worrying about slow payments after international shipping. The international trade loans allowed them to purchase more foraged products, including alfalfa, sudan grass and oat hay from other local Washington state farmers to ship internationally throughout the year. They also were able to purchase another pressing machine and build a fume barn, which allowed them to cut expenses and provide a local pressing and fumigating service for other farmers to export. The Haberman brothers have grown their original small export company into a multimillion-dollar business that employs 50 local workers and supports the local farm economy of foraged agricultural products. They estimate 98% of their sales are international with their biggest customers in Japan, Korea, China and the United Arab Emirates. The Haberman's show no sign of slowing their growth through exporting and look forward to growing sales in the Middle East and possibly entering the Indian market when it opens.
In 2011 Number 9 Hay Trading Company was named the Washington Small Business Exporter of the Year. Today Brad Haberman serves as the Vice President of the Washington State Farm Bureau and Bob Haberman serves on the transportation committee for the U.S. Forage Export Council, a subcommittee of the National Hay Association.
From the Owners:
"We're farmers. We're all trying to figure out ways to support our families. This did become an extension of the farm. It became a way for us to get enough money back to the farm to keep it going. We enjoy working with other farmers and helping them keep their farmers successful." – Brad Haberman
"One dollar that goes through the export process has an exponential impact on the economy. Exporting forage is a big deal in Washington state, and it's a big deal for the ports in Seattle and Tacoma." – Bob Haberman
Company Name:
Number 9 Hay Trading Company