You are here
It's all in the Family: Local Irish Pub Grows Strong Roots with SBA Assistance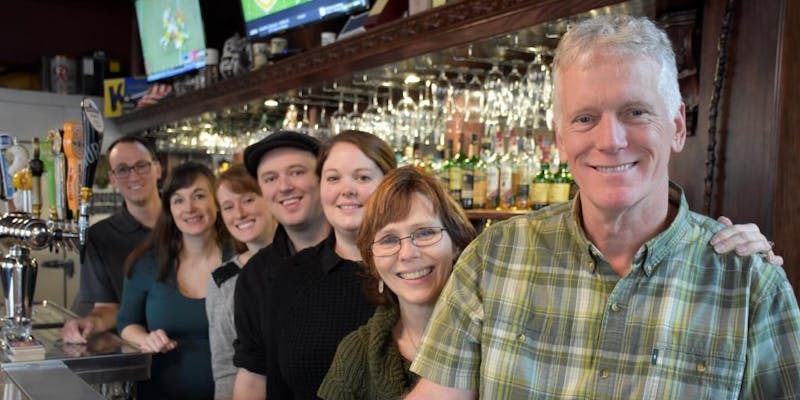 It's all in the Family: Local Irish Pub Grows Strong Roots with SBA Assistance
Shawn O'Donnell's American Grill and Irish Pub is truly a family affair. With a strong connection to his Irish roots and an even stronger connection to his Washington-based family, Founder and Owner Shawn O'Donnell Sr. opened his first sandwich shop in Everett, Washington in 1982. It seemed a natural progression to get family involved as his business expanded into three full-service locations over the course of more than 30 years. The current-day owners of Shawn O'Donnell's three locations now include his wife Tina O'Donnell, son Shawn O'Donnell Jr., daughter-in-law Molly O'Donnell, daughter Sophia Taylor, niece Kristen Nannery, and close family friend Chase VanCotthem.
Along the way the O'Donnell family has encountered various obstacles to survival and growth. In 2003 following a landlord dispute, they wanted to stop renting and were ready to buy. Shortly after moving and opening their new location in South Everett in 2007, the Great Recession of 2008 hit and the business struggled to make it through. After recovering, as the business grew and new family members stepped up into owner/management roles, they found a need to guide business growth strategically.
Solution
In 2003 O'Donnell Sr. made use of the U.S. Small Business Administration's loan program to finance a plot of land and the building of a new restaurant. After the recession, O'Donnell Sr. was referred to business counselor Jennifer Shelton at the Small Business Development Center (SBDC) for free business counseling to keep the business afloat. Shelton sat down with him and helped him meticulously restructure and plan out every aspect of the business, from cash flow to social media. When O'Donnell Jr. stepped up into an owner and management role, he applied to the SBA Emerging Leaders Program, a seven-month executive education program focused on strategic growth.
Impact
Thanks to the SBA loan, the O'Donnell family was able to stop renting and take control of their business finances. When the recession hit, O'Donnell Sr. said it was thanks to the help of Shelton and the SBDC that they were able to make it through the recession, and still uses and modifies the same business plan to grow the business today. The O'Donnell family opened two more locations in Seattle and now employs a staff of 90. O'Donnell Jr. credits the 2014 SBA Emerging Leaders program with helping him to understand how to tackle common small business challenges and see a way forward.
From the owner
"Jennifer Shelton of the SBDC was a tremendous help as well, we sat down and combed through every bit of the business and even though we had been doing well for almost 25 years, that help was the difference in us making it through the recession; I don't think we would have had she not helped," O'Donnell Sr. said. "And now, still, we have a valid business plan that I modify and work with and it helps keep us on track." On working closely as a family-owned business, he added "You can pick your friends but you can't pick your family. We got lucky."
Company Name:
Shawn O'Donnell's American Grill and Irish Pub