You are here
Millennial Business Owner Grows Specialty Woodworking Shop 600% with SBA Loan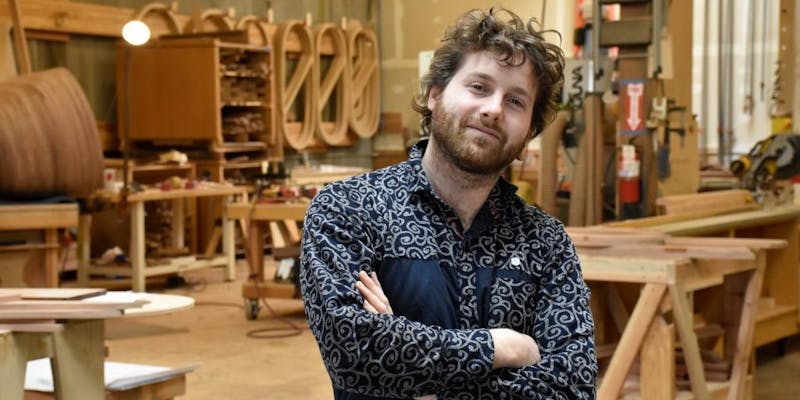 Millennial Business Owner Grows Specialty Woodworking Shop 600% with SBA Loan
At the age of 19, Nathie Katzoff earned his diploma in wooden boat building in Kennebunkport, Maine. There he began to develop his mastery in sophisticated woodworking techniques such as joinery and steam bending. Upon graduation Katzoff relocated to Seattle and founded in NK Woodworking in 2011 as a small one-man shop. His first residential staircase was commissioned in 2012 by family friends for their home in Bothell, Washington. That staircase earned Katzoff his first national design award and attracted national attention from high-end luxury home designers and architects. Despite the regular demand for his high-end custom wooden staircases, furniture, architectural woodwork and bathtubs, Katzoff found himself in need of working capital to build out his shop and add employees to fulfil the incoming commissions.
Solution
In 2015 Katzoff was approved for an SBA Guaranteed Loan by Kitsap Bank in the amount of $385,000 to purchase the business equipment he needed to grow his woodworking business.  Later, in 2017 he opened a SBA line of credit to further finance growth.
Impact
NK Woodworking has grown 600% since its inception. As a result of the SBA Guaranteed Loan and working capital from the SBA line of credit, Katzoff was able to purchase the space and equipment he needed to grow the business. From 2015 to 2016 he went from 16 employees and $1.6 million in annual revenue to 28 employees and $3.7 million in annual revenue. NK Woodworking has more than quadrupled the amount of square footage taken up with office and shop space since its founding in 2011. Katzoff's woodworking continues to win national architecture and design awards – 16 stair-specific awards to date - and has built a prestigious luxury reputation.
In 2018 Katzoff was named the SBA Seattle District Millennial Entrepreneur of the Year as part of National Small Business Week, an award which recognizes small business owners under the age of 35 who demonstrate staying power and substantiated history as an established business with at least three years of business operation. Winners must also show growth in net worth and business expansion, increase in jobs and sales, innovativeness of products or services, response to adversity and contributions to community-oriented projects.
From the Owner
"We got the opportunity to build a radical portfolio pretty quickly; so the growth was based around the projects," Katzoff said.  "We started as a business in a garage and now we have about 30 people, so as we grew so quickly, it was a rapid learning curve."
"Winning the Millennial Entrepreneur of the Year Award is like winning an award for insanity."