You are here
Yakima Construction Firm Grows with SBA Contracting Program and Tax Cuts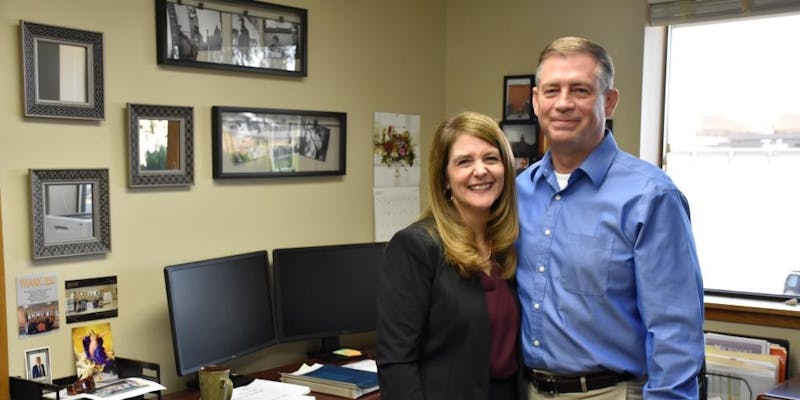 Yakima Construction Firm Grows with SBA Certification Program and Tax Cuts
Shannon and Richard Sevigny first met on a construction site – at the time, both were working with their respective families. They soon fell in love, married and decided to go into business for themselves. In 1990 the Sevignys opened a general contracting business – RJS Construction (RJS) in Yakima, Washington with Shannon Sevigny as the majority owner. While she worked on running the administrative side of the business, Richard Sevigny tackled operations. During the next 20 years RJS steadily grew, specializing in residential and commercial construction projects of all kinds. As the business grew, so did their family. At one time or another, six of their eight children have worked for RJS. Business was thriving until the recession hit hard in October 2008. Within 10 days, a year's worth of RJS contracted projects called to cancel. The Sevignys had no choice but to let most of their staff go while they considered their next move.
Solution
In their 20 years of business experience at that time, RJS had occasionally worked as a subcontractor on federal contracts. A federal contracting representative who was familiar with their work recommended that the Sevignys visit the SBA and consider the 8(a) Business Development Program, a federal contracting program for disadvantaged small businesses and minority-owned businesses. Shannon Sevigny, a member of the Bad River Band of the Lake Superior Tribe of Chippewa Indians, found she was eligible for the program. They did their research, attended SBA-led federal contracting trainings and decided the program would be a great fit. RJS applied and in July of 2011 they were accepted into the program.
Impact
When RJS entered the 8(a) Business Development Program in 2011, they were doing $2.1 million in annual revenues with a staff totaling four individuals. As they finish out their eighth year in the program, RJS has grown to 34 staff, they have completed projects in 14 states and are projected to finish 2019 with more than $16 million in annual revenue. Their projects include electrical work on dams, federal courthouse renovations for GSA and civil projects for the Corps of Engineers and Customs & Border Protection. RJS  has won numerous awards including the SBA Regional Small Business Contractor of the Year Award. In 2018 Shannon Sevigny was named one of the Puget Sound Business Journal's Women of Influence.
Selling to the federal government opened many doors for RJS. Shannon Sevigny notes that they've used the 8(a) Business Development Program for its purpose and they strive to maintain a diverse client base to ensure sustainable growth for the company.  They strive to maintain a diverse clientele comprised of one-third private commercial business, one-third federal business and one-third Tribal work.
On the 2017 Job and Tax Cuts Act
Richard Sevigny estimates that they received 14% of their net revenues back as a result of the 2017 Job and Tax Cut Acts, which had a huge positive impact on their business. They were able to hire more full-time staff, provide employees bonuses and open another office in Bremerton, Washington.
From the Owner
 "If we didn't go and ask for advice, we might not have made it through the recession. We didn't know what we didn't know – and that was tremendously humbling. There are so many resources and so many people in the government who are willing to help." – Shannon Sevigny