You are here
Washington Export Outreach Team Home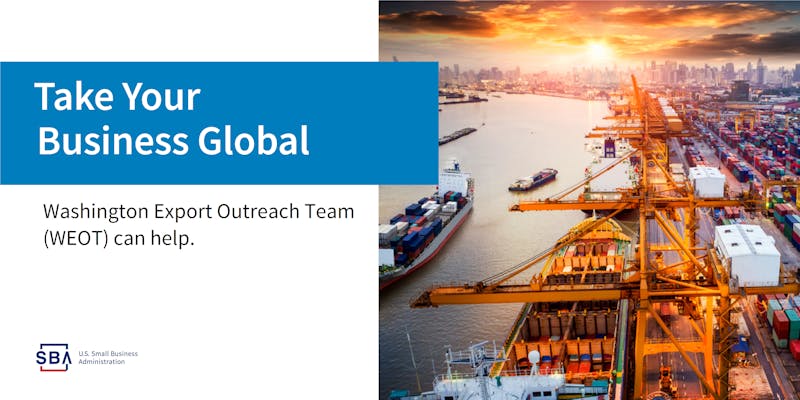 About
Established in 2013 following a national mandate to do more to support international trade, the Washington Export Outreach Team (WEOT) is a collaborative team of local, state, regional, and federal export assistance agencies who provide you the tools and resources you need to sell internationally.
WEOT has a "no wrong door" policy. You can contact or visit any of the WEOT members for export assistance. If that office is not the best fit for your specific export needs, you will recieve a referral and a direct contact to another agency that will assist you.
Together, we bring the world to your door.
Contact Us
In the attachments below, open the document titled "Contact WEOT." You will find the emails for most of our members. You can send export inquiries to any of the people listed and we will work together to get you the best answer.
Export Events
Find local export events near you by visiting our WEOT Eventbrite Page.
$5,000 Export Vouchers
Apply for an SBA-funded Washington State Trade Expansion Porgram (STEP) grant administered through the Washington Department of Commerce. STEP grants fund travel in amounts up to $5,000 to international trade shows, trade show fees, international compliance testing, and more. Apply at  www.commerce.wa.gov/growing-the-economy/business-loans/export-voucher-program.
WEOT Members
Export Finance Assistance Center of Washington
Export-Import (EXIM) Bank of the U.S. | Washington EXIM Office
Minority Business Development Agency - City of Tacoma
U.S. Commercial Service | Western Washington Office | Eastern Washington Office | Southern Washington Office
U.S. Department of Agriculture (USDA) | USDA Rural Development Washington Office
U.S. Small Business Administration (SBA) Office of International Trade | SBA  Seattle District Office | SBA Spokane District Office 
Washington Small Business Development Center (WSBDC) 
Washington Small Business Development Center Export Services
Washington State Department of Agriculture
Washington State Department of Commerce | Choose Washington State 
Western United States Agricultural Trade Association
WEOT Partners
Northwest Trade Adjustment Assistance Center (TAAC)
Veterans Business Outreach Center (VBOC)
Washington Center for Women in Business
Washington Procurement Technical Assistance Center (PTAC)