You are here
Culture is Key to Burlington Organic Poultry Feed Business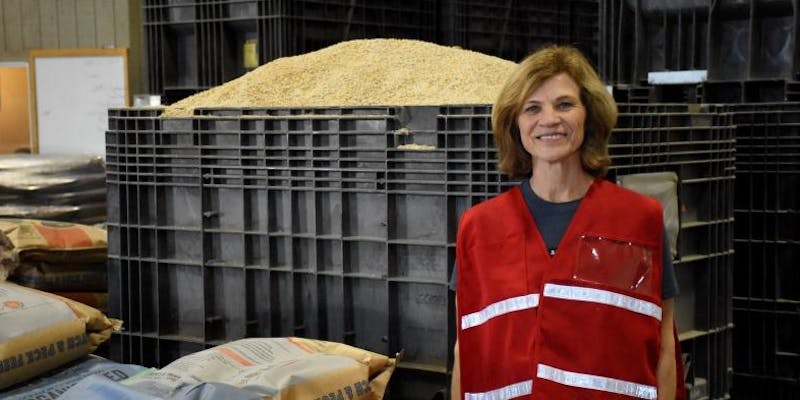 Culture is Key to Burlington Organic Poultry Feed Business 
In 2009 Diana Ambauen-Meade was raising chickens in her backyard in Bremerton, Washington. She could not find organic poultry feed suitable to feed her flock so she decided to produce her own. As the backyard chicken movement started to take off, Ambauen-Meade was soon inundated with requests for her organic feed. This led to the decision to build a mill – together with husband Dennis Meade and son Bryon Meade - and Scratch and Peck Feeds was born. Business grew steadily each year but Ambauen-Meade wanted additional assistance to steer growth strategically.
Solution
Ambauen-Meade connected with SBA resource partner SCORE for free, expert and confidential business mentoring. Her SCORE mentor reviewed Scratch and Peck's numbers and provided her with a toolkit of accounting ratios to measure the financial health of her business quickly. She also graduated from the SBA Emerging Leaders program, a seven-month executive education series designed for businesses on the brink of growth.
Impact
After receiving SCORE mentoring, Scratch and Peck annual sales grew from $1.2 million to $6.2 million in a four-year period; and, the number of full-time employees doubled from 10 to 20. Since completing the SBA Emerging Leaders program in 2016, annual sales have grown to $8 million, and the business now employs 26 full-time employees and one part-time employee. In October 2017, Ambauen-Meade won the Best Place to Work Award in a national competition for all SBA Emerging Leaders graduates for her efforts to create a culture where employees enjoy coming to work.
From the owner
"Think about culture as you begin and as you start hiring people - make sure that you give a high priority to that. That's the importance of small business - we account for most of the jobs in this country, and taking care of the individuals you employ is number one," Ambauen-Meade said.  "It's an honor to employ people - they spend most of their time here, and it's an honor to think about the fact that we, by the jobs that we provide, help to provide people's living. In return, it's really important that we take care of them. They certainly take care of us - we couldn't be successful without them."
For more information
SCORE - www.score.org.
SBA Emerging Leaders program -  www.sba.gov/EmergingLeaders.
Scratch and Peck Feeds - www.scratchandpeck.com.